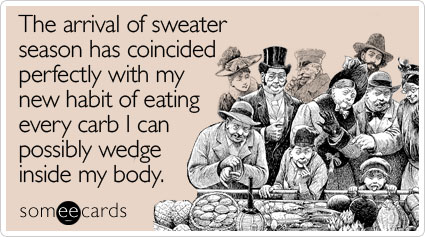 Is this you?  It was me.  I was eating carbs over the holidays like a shopping addict buys Manolos.  Okay, in Eau Claire, more like a redneck shoots squirrels and puts the tails on the antenna of their Bronco.  Sorry if that offends you, but it's a suitable analogy.
Not that there is anything wrong with carbs.  On the contrary, a person who works out like I do – twice a week – needs them the day before workouts to replenish carb stores in muscles.  And possibly in between, but mostly then.
Here's the thing about carbs:  they are not bad.   They never were.  I hate that Great Grains commercial where the women lying in the field of grains act like they don't know what to believe.  Since I don't think that grains were supposed to be consumed by humans, I guess I don't agree.  However, I do think that it is confusing to a lot of people.
Carbs are only bad if that is the majority of macronutrient you get, if you don't exercise, and if your goal is to lose weight.  Then it gets broken down into even more confusing sub-categories!  Here is a good guideline for eat carbs:
Eat carbs the evening before you are going to work out.  Not before a workout, but the night before, sleep and then workout the next day – doing at least moderately heavy resistance training as your method of exercise.
Don't eat carbs except for vegetables on the days you don't work out, unless you are working out the next day.
Get your carbs from fruit, vegetables and sweeteners like honey, maple syrup or coconut sugar.  It is healthier.
Eat carbs right after your workout – you have a 30 minute window, so eat 20-30 g of protein and some high glycemic carb like a banana with spots.
Focus on protein.
Easier said than done, but doable.  The longer you deprive your body of carbs during the inefficient times of day, say anytime before noon (unless you work out in the morning, in which you would then eat carbs after a workout) the less you will crave them.  This isn't rocket science, but those cravings can be STRONG.
So, get back on the wagon.  It won't leave without you, because you're the only one on it, but just get on it.  That reminds me of Oregon Trail.  Did you know you can play Oregon Trail on Facebook?  Not as cool as the old IBM game in the floppy drive, but hey.